Preparation of files for printing
You can use any graphics program such as Gimp, Canva or Adobe Photoshop to prepare your files. The attached file should meet the following requirements:

Saved in CMYK color space without any color profiles attached with extension .pdf, .png or .tiff. If there are any layers and texts in the file should be flattened with the background.
Prepared at a resolution of at least 200 DPI for products larger than 66 cm (length of any edge), or at least 250 DPI for products smaller than 60 cm. If you have doubts whether the file you uploaded will meet this requirement, check what resolution it is (in pixels) and then use an online converter (for example, here https://www.pixelconverter.com/pl/przelicznik-pikseli-na-centymetry/ ) specifying the target DPI (200 or 300 depending on the size of the product).

Have the target size (i.e. the size of the selected product in millimeters) increased by a minimum of 5 mm on each side. This is the bleed, i.e. the area that will be trimmed from the design in the production process, so remember that no important elements can be there. In addition, all elements important to the design (such as fields or texts) should be contained in the safe area, which is always 10 mm smaller than the target dimension of the product.
Representative example: the file for printing a 61x35.5 cm card game mat, prepared according to the guidelines, should be 620x365 mm in size, which at a resolution of 250 DPI translates into dimensions of 6102 pixels by 3593 pixels. In addition, all elements important for the project, which must not be cropped or too close to the edge, should fit within the 600x345 mm border (that is 5906x3396 pixels).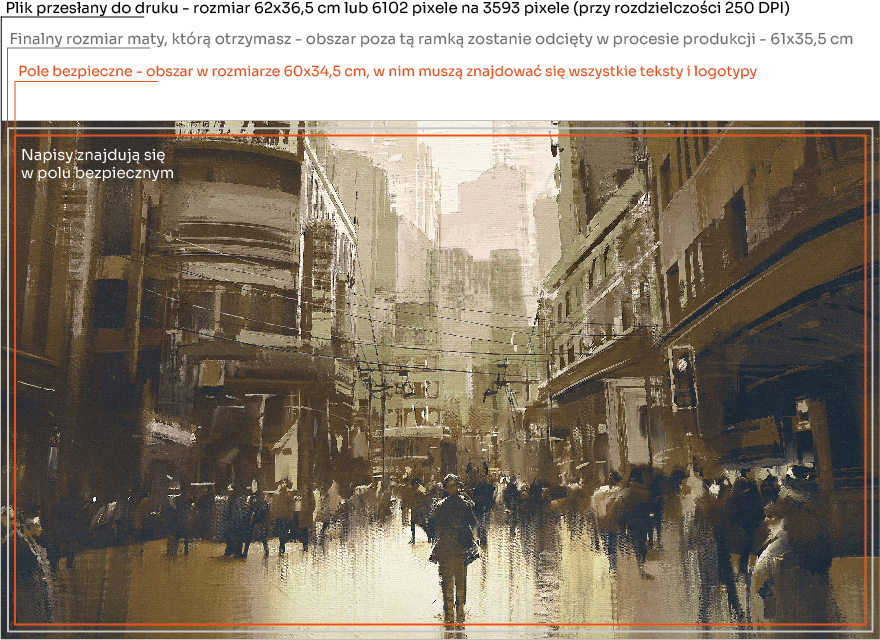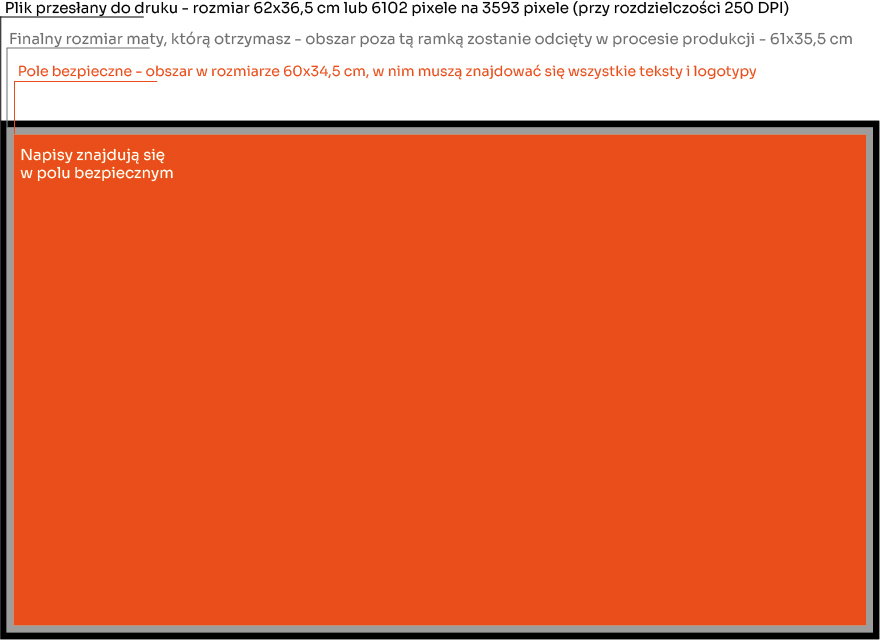 After placing your order, the uploaded file will undergo initial graphic verification with us. If it will be in accordance with the requirements and fit for printing, the order will be sent for processing. However, if the file will be incorrect, you will receive information from us on what needs to be corrected. You can do it yourself, or have us do the graphic corrections and prepare the project for printing - in this case the cost is 20 euro per hour of graphic designer work.
Have question or need help?